Paris Elementary Welcomes New Staff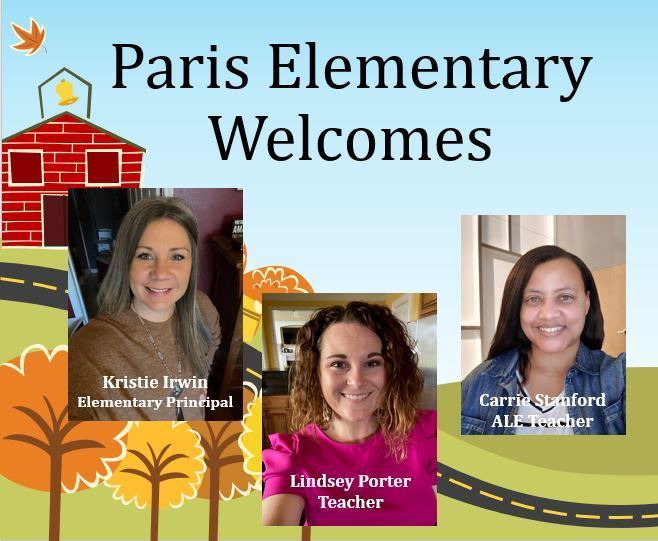 Since Thursday is a designated makeup day for Paris Schools, we will provide limited bus routes. If you need transportation on Thursday, please let your building know. Thank you.
We have added another location to our Summer Feeding Program. Please see the updated flyer.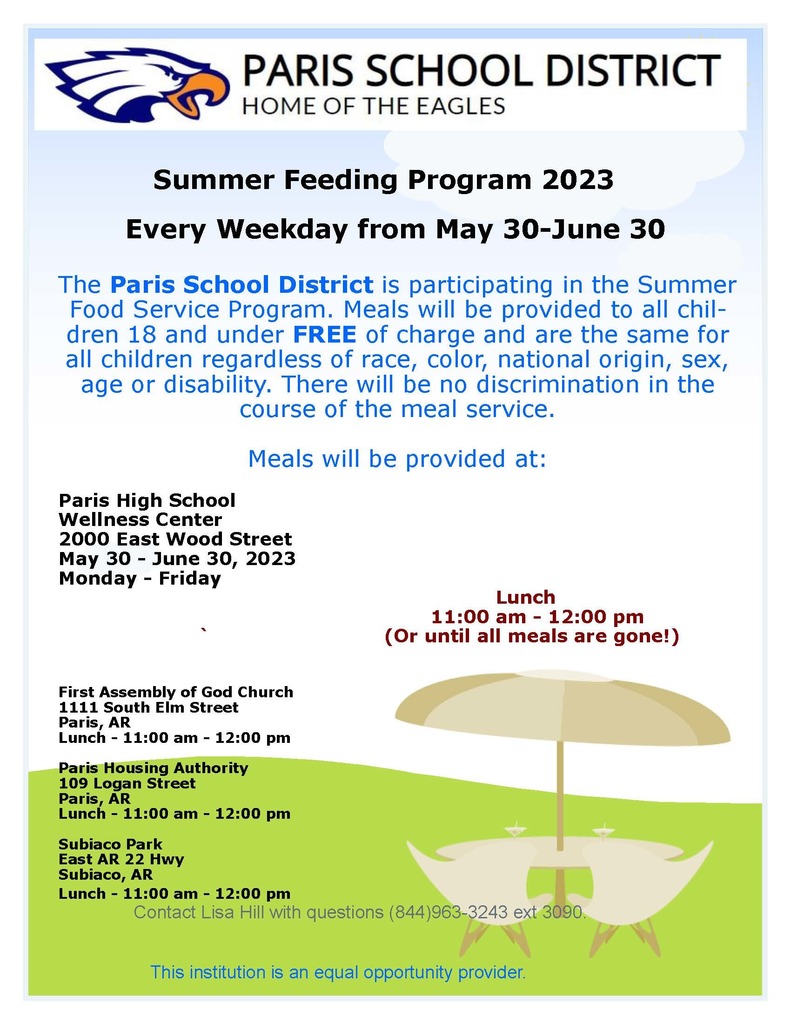 Paris Admin has been made aware of a threat that happened on an afternoon bus route in regards to the High School on Thursday. Local PD has been made aware of this and parents have been contacted to make sure this threat is taken seriously and handled appropriately. Student safety is always our top priority. An extra police presence has been requested tomorrow as a precaution.

Paris School District has an opening for a bus driver for our WATC route. This will be a 178 day contract. Contact Jim Loyd at 844-963-3243, email
jloyd@parisschools.org
, or inquire at 2711 E. Walnut St. Paris, AR
Paris School District is taking bids for the purchase and installation of school bus camera systems for 12 school buses. More information may be obtained at the superintendent's office or you can email
jloyd@parisschools.org
Bids will be accepted until 3 pm on June 5th

Please see the following regarding our Summer Feeding Program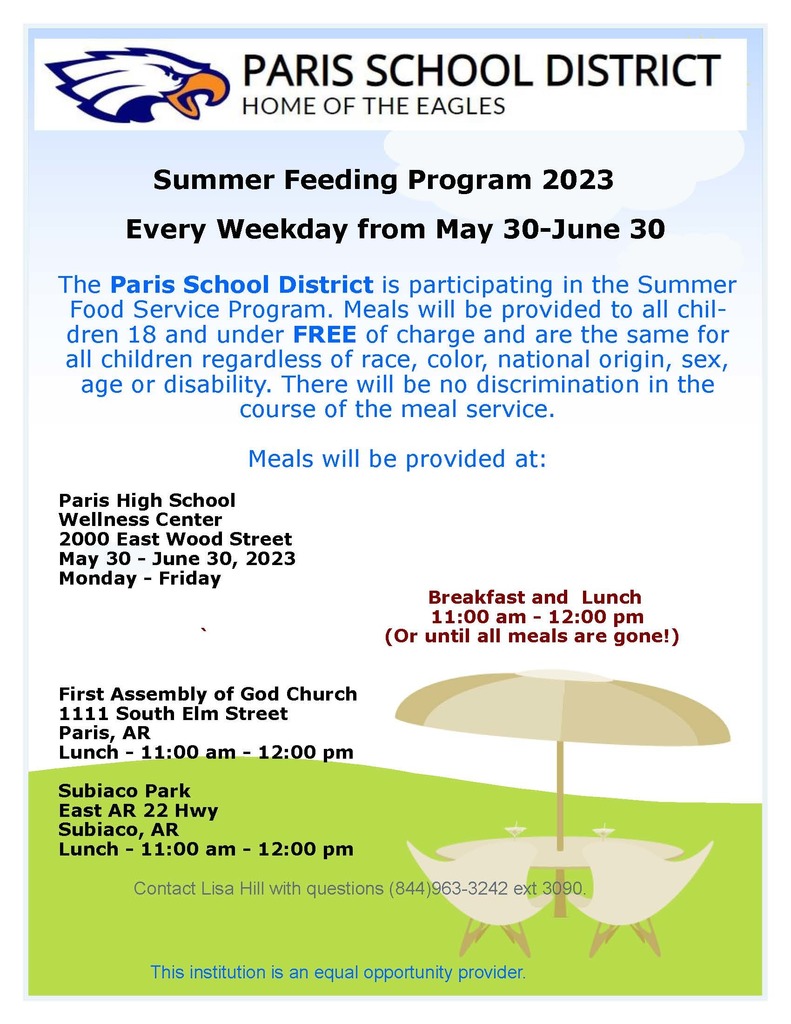 Paris School District Notice of Invitation For Bid (IFB) The Paris School District will be accepting bids for the foodservice department for the 2023-2024 school year, including groceries, milk, juice, bread, & supplies. Bid packets may be picked up at the Superintendent's office or emailed to you by the child nutrition director during the week of May 5-18, 2023. All bids must be submitted in a sealed envelope addressed to the attention of the child nutrition director, 2711 E. Walnut St. Paris, AR 72855 or may be emailed to child nutrition director
lhill@parisschools.org
. Bids must be submitted no later than June 30, 2023. The Paris School District follows all rules pertaining to debarment and suspension and will use small, minority and women's businesses whenever possible. For further questions, please contact Lisa Hill, Child Nutrition Director at 1-844-963-3243 ext. 3090 or
lhill@parisschools.org
to leave a message. This Institution is an equal opportunity provider and employer.

YOUR Paris Eagles will be back in action Thursday at 10:00am as they open up Regional Baseball vs Elkins! If you can make this trip, you must purchase a ticket:
https://gofan.co/search
If you type in "Valley Springs" in the search bar at this link the baseball and softball regional will appear. If not attending, check out the action on thesportsbrew.net
Paris School District is excited to announce that we will be providing meals at no charge to all students for the 23/24 school year. Please see the following for additional information.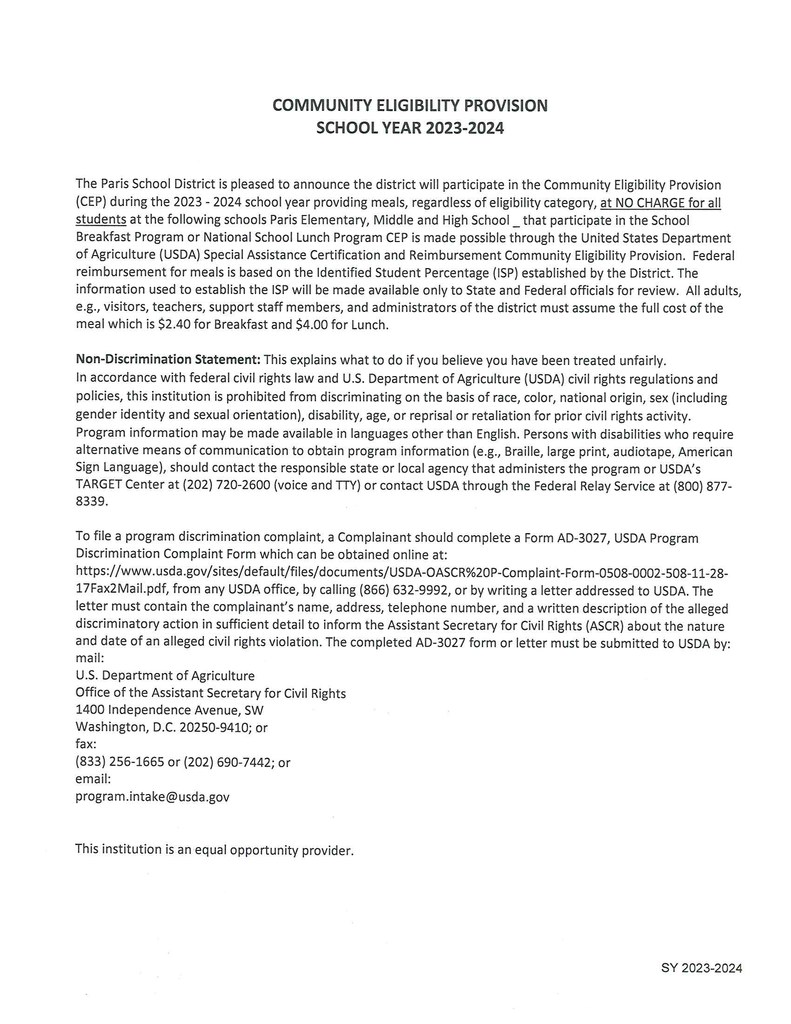 HOW ABOUT MASON ULLRICH!! He won STATE with a 4:36.6 in the mile and will be running for the Meet of Champs May 10th in Rsvl as a 10th grader!! Congratulations Mason, we are proud of you!!


District Tournament: Baseball will be moved to Hunt's Park in Ft. Smith tomorrow (Wednesday) at 9:00. They have turf fields. Hopefully we can get two district games in, which will help to not extend the tournament anymore than we have to.
The Paris School District is accepting bids for the following: Scope of Work Labor and material to replace 40 wood doors and transoms throughout Paris Elementary School. Replace with metal doors and transoms with vision lites installed. To include all hardware that complies with Arkansas Department of Education safety requirements. Hardware to include new butt hinges, lever handles, cylindrical locks, stops hardware finish to be brushed chrome. Remove and dispose of wood doors currently in place. Bids will be accepted until 3 PM on May 8, 2023 and may be mailed to 2711 E. Walnut St. Paris, AR 72855 or emailed to
jloyd@parisschools.org
.

Softball and Baseball District Tournaments are next week at Cossatot River. Here are the brackets for each tournament.