Tutoring starts back today March 29th. Please contact your teacher or the office to sign up. NO TUTORING on Wednesday, March 31st due to a faculty meeting. Also there will be no tutoring the week of April 19th due to ACT Aspire.

After school tutoring starts on Monday from 3:15-3:45. Math and Science will be the focus on Monday/Wednesday and Literacy and Social Studies will be the focus on Tuesday/Thursday. To sign up for a day of tutoring, please contact Mr Mainer at
cmainer@parisschools.org
or Mr Prieur at
tprieur@parisschools.org
or one of your child's teachers.

Honoring All Who Served

REMINDER: We will dismiss at 1:30 on Thursday, October 29th, for VIRTUAL parent/teacher conferences from 2:00-7:00pm. Please contact your student's teachers by email or by phone at (844) 963-3243 during that time. GO EAGLES! Friday, October 30th, we be a Virtual Option Day for students where students can choose to stay home and work virtually.

Paris Middle School fall pictures will be September 10 – This year we are using a new company and the process is a little different – you do NOT have to prepay for your pictures and everyone will have their picture made. You will then (after pictures have been processed) receive a proof of your photo. At that point you may order either online, or bring your money to school. Virtual Fall Pictures: All Virtual Students will have their fall pictures taken between the hours of 8:00 and 10:00 prior to all on site students

Stay up to date by signing up for Remind. Teachers from each grade use Remind to inform parents of things going on.

REMINDER: ON-SITE STUDENTS: Monday: Grades 5th and 8th are on campus! Tuesday: Grades 6th and 7th are on campus! Wednesday: All grades are on campus! VIRTUAL STUDENTS: Do you need your chromebook? Need a tutorial on how virtual is going to work? Drop by the school for a brief rundown between 8:30-2:00. Virtual students in GRADES 6/7 may come MONDAY. Virtual students in GRADES 5/8 may come TUESDAY.

Thank you to First National Bank of Paris for providing lunch today for Paris Middle School. The teachers and staff greatly appreciated it!

CAR RIDERS AT PMS: Car riders will now be PICKED up on the north side of the building using the auditorium doors. We will have them lined up waiting on their ride. If you get here early and park, please back in to make it easier to exit. We will still have car riders dropped off in the morning like normal in the back by the safe room.
https://youtu.be/zeQOtaYQAV8
SCHEDULES/VIRTUAL STUDENTS/OPEN HOUSES UPDATE!!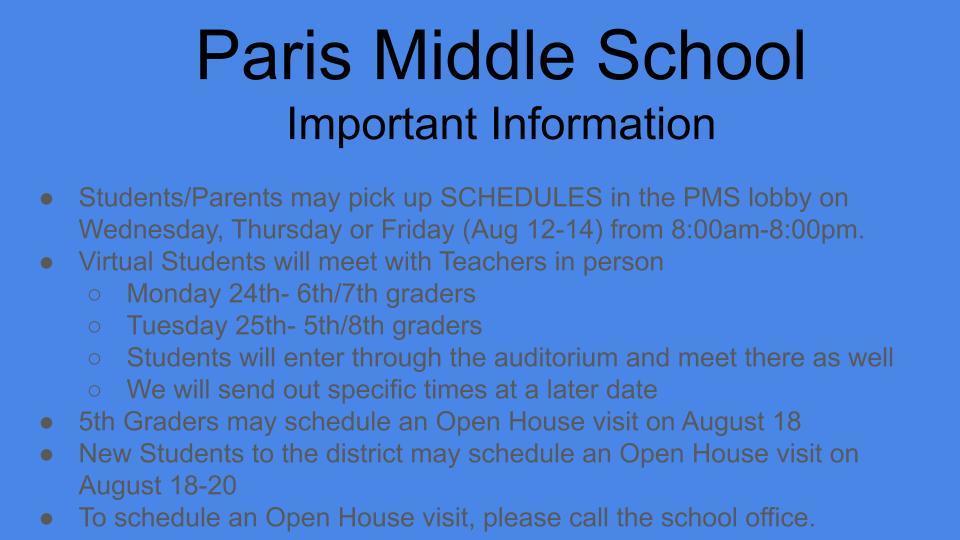 2020 Athletic Schedules for Football and Volleyball have been posted on the website. Please visit those pages to view the updated schedule.

Help us virtually Fill the Bus! Now through August 10th! #wearepariseagles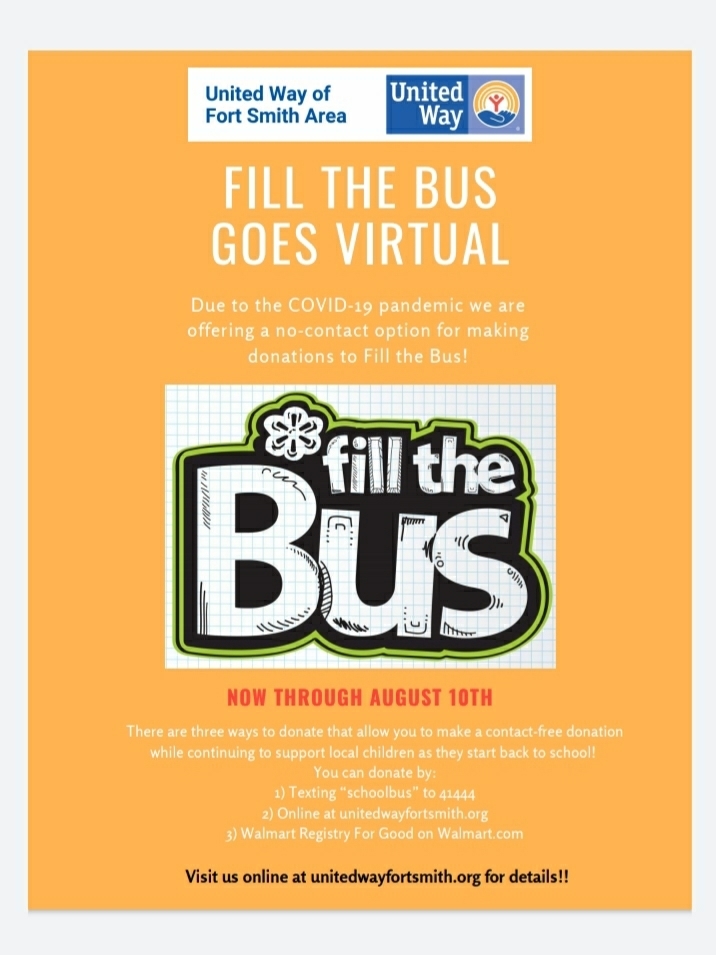 Any students entering 7th grade this year that are interested in playing football, need to come to the field house on July 20th at 10:00 am. Practice will be from 10:00-11:30. Note - students will need to check in at the wellness center and bring a mask, as well as water. Thank you

Any upcoming freshman boys interested in playing baseball this coming year, need to contact Coach Josh Hart @ 479-518-0318 or during practice.

Phones at our Elementary and Middle School campuses are down until at least early next week due to a downed line. Thank you for your patience.

Update from Gov. Asa Hutchinson during today's press conference - The start of the 2020-21 school year in Arkansas is now moved back to Aug. 24, to no later than Aug. 26. Gov. Hutchinson said the change in date, with schools scheduled to start Aug. 13, was to give school districts an opportunity to get more prepared on the issue.

AAA Announced:

Important information regarding food benefits for our students. See more below. #wearepariseagles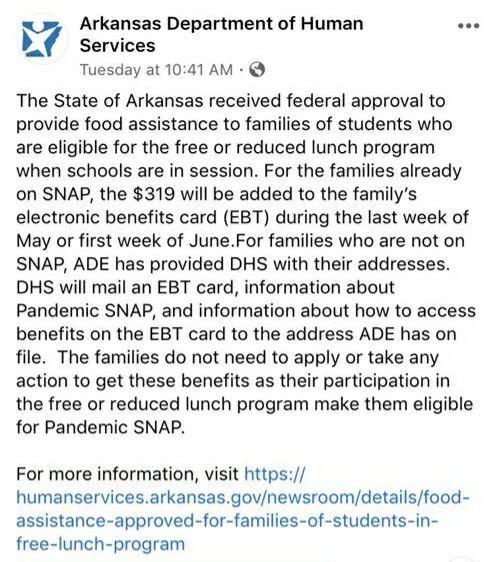 After the Governor's and AAA's announcement last week, we are excited to have our student-athletes return to campus. We have met as a district staff to make sure safety procedures are in place for everyone on campus. Here is the schedule for the upcoming week. Your coach will be in contact for the time you should report. Every student will have to get screened through the Wellness Center before entering their athletic facility. REMINDER...the facilities are still closed to the public. Monday June 1  Volleyball.... 7:30-12:15 Football.... 8:00-1:45 Girls BB.... 8:30-9:30 Boys BB... 8:30-12:15 Softball... 11:00-12:00 Tuesday June 2  Volleyball.... 7:30-12:15 Football.... 8:00-1:45 Girls BB.... 8:30-9:30 Boys BB... 8:30-12:15 Softball... 11:00-12:00 Baseball... 4:00-5:00 Wednesday June 3  Volleyball.... 7:30-2:15 Football.... 8:00-9:30 (SR High)... 10:00-11:30 (Junior High) Boys BB... 8:30-12:15 Baseball... 4:00-5:00 Thursday June 4  Volleyball.... 7:30-2:15 Football.... 8:00-9:30 (SR High)... 10:00-11:30 (Junior High) Boys BB... 8:30-12:15 Baseball... 4:00-5:30 Friday June 5  Football.... 8:00-9:30 (SR High)... 10:00-11:30 (Junior High) Boys BB... 10:00-11:00 #wearepariseagles